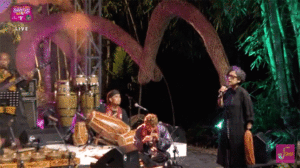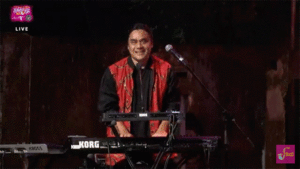 How to sum up Ngayogjazz 2021? This year, despite the more "intimate" nature of the festival than was expected, with onsite attendance moved fully online, the spirit of the festival and the community of Karang Tanjung remained buoyant. Everyone was smiling from beginning to the very end – even now as I finish writing this at just past 11 p.m.
The evening brought its magic to Ngayogjazz this year, when a thousand tiny bugs are known as Laron in Javanese – perhaps less romantically, flying termites in English – came out for a few hours, attracted to the lights of the stages, dancing in the smoke like accidental confetti.
This was perhaps most atmospheric during YK Samarinda's performance, where their jazz-infused with Dayak sape (stringed music instrument) reverberated around the surrounding bamboo, bringing East Kalimantan to Yogyakarta. Clouds of Laron also drifted around Panggung Saras during SeteruSunyi's set, reflecting their ethereal lo-fi.
As the darkness set in, some families chose to watch the festivities from their front porches. Parents and grandparents sat on plastic chairs with children on their laps, while others flocked to the angkringan around the village to drink hot tea and watch the passing groups.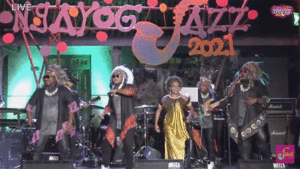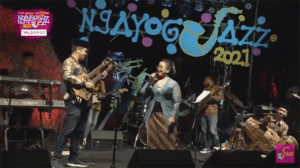 Other children continued to celebrate the novelty freedom of the festival by running between stages to see as much as possible. I, too, couldn't stay still at one stage for too long for fear of missing out on the performance taking place on another. As one person commented – feeling torn about whom to watch was the sign of too much choice, and thus a good festival. Perhaps this is the benefit of pandemic-induced streaming in that you can always go back to watch the performances again.
And Ngayogjazz 2021 was a party. From the opening parade to the final performances of Papua Original and Balawan & Brayat Endah Laras, the crowd has been rather infectiously laughing and singing and dancing, and it is this image that I will take with me as I wait for Ngayogjazz 2022, where hopefully we can all join together in person again. See you in Ngayogjazz 2022!